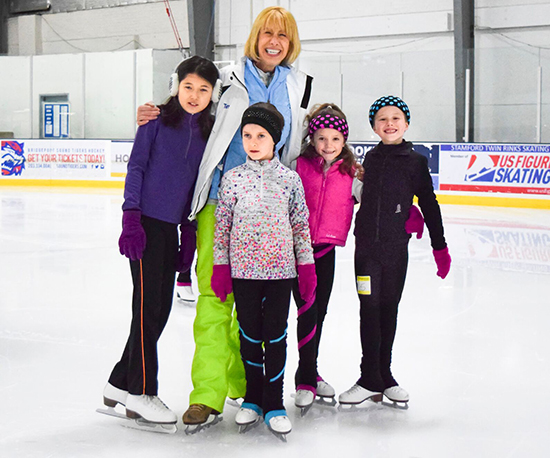 FIGURE SKATING SESSIONS & PRIVATE LESSONS
Stamford Twin Rinks offers the most summer figure skating opportunities in the areafor advanced figure skaters and rising stars alike, with five daily practice sessions, Monday – Friday, and three sessions on Saturdays. Dedicated ice time allows up-and-coming and seasoned figure skaters to practice their jumping, spinning, Moves in the Field, and ice dancing skills in a safe, motivating environment. Skaters can supplement their training with private or semi-private ballet, dance, and fitness lessons in our professional, mirrored dance studio, to improve strength, flexibility, grace, and musicality.
Our 21th Annual Figure Skating Program features the only fully certified professional coaching staff in New England and a state-of-the-art facility.
Two regulation size ice surfaces

High tech digital sound system

Jumping harness

WESCO SPORTS CENTER - Full service pro shop and certified skate sharpeners

Hope Street Café

, overlooking the rink, for snack and lunch

Home to Springdale Figure Skating Club and Skyliners "synchro" teams
Private skating lessons: Skaters, including beginners, may schedule private lessons with the Twin Rinks professional of their choice during figure skating sessions. See the full list of our coaching staff below. Please contact our Skating Directors at 203-968-9000, ext.16 for information on our new Guest Coach policy.
MEET THE SKATING COACHES
Emily Lowenthal Cassella and Francis X. Cassella, Skating Directors: Nationally-known PSA Master-rated coaches Emily and Frank Cassella have directed the Twin Rinks figure skating and Basic Skills programs for 19 years. A gold medalist in figures, freestyle, and ice dancing, Emily is a member of the Skating Club of Lake Placid Hall of Fame. Frank, the 1971 U.S. National Junior Dance Champion, is a gold medalist in ice dancing and free dancing and a four-time U.S. National competitor.
June Clark: A U.S. Figure Skating double gold medalist, June has coached in the region and at the Lake Placid Olympic Training Center for over 20 years. She previously was head coach at the New Canaan Winter Club and directed her own skating school at the Darien Ice Rink.
Sabrina Ericson: Sabrina, an ice dancing gold medalist, has taught in Colorado and southern Connecticut for 15 years. She also has trained in figures, Moves in the Field, and freestyle, andcoaches many aspiring hockey players, as well.
Ekaterina Gvozdkova: Katia hails from Moscow, where she competed with her ice  dancing partner for the Russian National Team. Her international successes include three-time gold medalist at the Russian Cup and Bronze medalist at the ISU International competition in France. Katia holds an International Level Master of Sport ranking and studied figure skating choreography.
Larisa Lomonosova: Larisa trained in Russia and coached figure skating at Moscow's Luzhniki Skating Rink. She has toured extensively in ice shows throughout the world, including Ballet on Ice in Russia and Circus on Ice in Japan, France, and the UAE. Larisa also is a trained gymnast.
Terri Ann Lowenthal: Terri trained in ice dancing, freestyle, and figures under several elite coaches in southern Connecticut and Lake Placid and has been coaching for more than 40 years. She was Skating Director at Fort Dupont Ice Arena in Washington, DC, overseeing the nationally acclaimed Kids On Ice® program.
Jenette Maitz: Jenette is a gold medalist in freestyle, ice dance, free dance, and Moves in the Field. A competitor in several figure skating disciplines, Jenette (with her partner) was the 2010 Turkish National Ice Dance Champion and represented Turkey at the World Championships that year.
Christina O'Donnell: Christina is a gold medalist in figures and freestyle and has trained at the highest level in ice dancing. She has been coaching for 20 years and is a member of the Skating Club of Lake Placid Hall of Fame. Her competition experience includes North Atlantic Regionals and Eastern Sectional Championships.
Deborah Smeriglio: A native of Greenwich, Deb trained in figures and freestyle in Fairfield County and has been coaching for 22 years at many rinks in the area.
Marina Spagnuolo: Marina trains students, from beginners to the most senior levels, in freestyle, Moves in the Field, and synchronized skating. A coach for almost 30 years, Marina was head professional of the Terry Conners Synchronized Skating Program in Stamford from 1995–2003.
Janet Thomson: Janet has trained in Ice dancing, freestyle, and Moves in the Field, and competed in the Boston area, over a 30+-year skating career. She was a skating instructor from 1978–83 in the University of Connecticut's Athletics Department, and gained experience as a youth hockey coach and a learn-to-skate program manager in northwestern Connecticut from 1984–95.